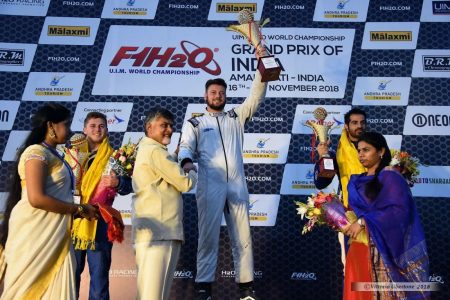 India, the Jewel in the Queen Victoria's crown, shone its light on Hayling Island this week when Powertech's Sam Whittle won the F4s World Championship round in Amaravati, India.
Sam (26) has been racing in the 2018 F4s powerboat race class as a member of F1 Atlantic Team with his father Keith Whittle acting as his chief engineer. Being members of Atlantic Team has taken them across the globe with races in Portugal, London, China, India, Abu Dhabi and Dubai. The next round is in Abu Dhabi and Sam is only 17 points away from winning the World Championship.
Powerboat racing runs in the family. Keith Whittle is a powerboat champion and world record holder in his own right and Sam has already won the British Championship so the step up onto a global stage has been part of the teams inexorable progress.
"India was fantastic," said Sam. "There were over 120 000 people watching and I felt like a movie star. Everyone wanted a selfie. It took me 20 minutes to walk from the pits to the podium because of the crush."
The Indian city of Amaravati has taken to powerboat racing like nowhere else. Tens of thousands of fans came to the races and the total support from the local government and media generated a massive turnout. Throughout the weekend smiling crowds and beaming police and Army commandoes surrounded the pilots like the happiest security detail in the world.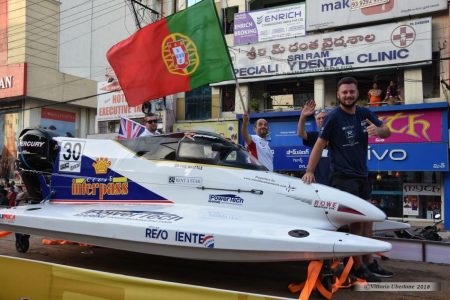 "This has got to be one of the best race events I have ever been to" said an ecstatic Keith. "I have been racing for over 30 years but this was a different class."
Sam and Keith are the owners of the UK's largest independent Evinrude dealership and their engineering know how and racing pedigree will undoubtedly mean that they will win many more races.
Holding a magnificent Gold Trophy Sam certainly looks like a winner. "I want to win the F4s F1H2O World Championship this year and maybe move up to another class in 2019," he said as the flashes from countless iPhones went off long into the tropical night. "I quite fancy winning the F1," he continued with a wry grin. Don't put it past them. The Powertech team are a force to be reckoned with.