A decade of no worries with the incredible 10-year warranty offer
From 1st March until 31st July 2019 Evinrude is offering an unrivalled 10-year factory-backed warranty with any purchase of an Evinrude E-TEC 25HP-300HP Outboard Engine.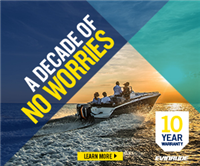 FASTEST, CLEANEST, SMARTEST. 
You want lower emissions. But not at the expense of power. You want performance. But you don't want to sacrifice easy handling.
With an E-TEC G2 you will never compromise. 

So now is the time to buy your new outboard engine before the summer season call 02392 637120 for more information.