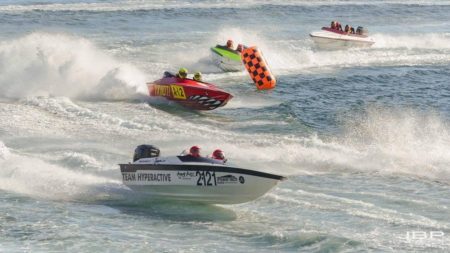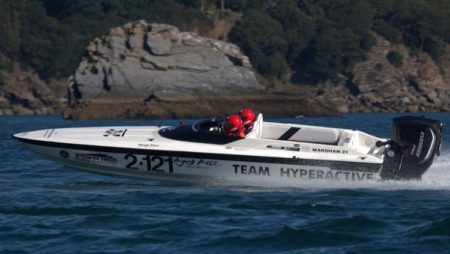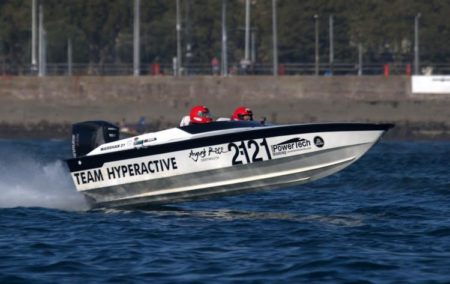 Powertech Marine have proven the reliability and engineering excellence of the Evinrude by racing a stock G2 150HO engine over 500 miles this season.
Driven by veteran powerboat racer Keith Whittle and his ever-ready navigator Andy Hiscox their Marshan 21 race boat has competed in the whole OCRDA season and the legendary Cowes-Poole-Cowes event without missing a beat.
The Evinrude G2 engine was fitted and run in a standard configuration with no modifications and has proven just how strong the new design of Evinrude G2's really are.
With a top speed of over 65 mph the Marshan 21 has proven to be a competitive race boat and has demonstrated that the 2 stroke format still has a lot to offer the leisure market.
"We didn't make any changes to the set up because we were racing" said Keith Whittle. "We put the engine through its paces to test just how strong it really is. The feasibility of the new design has been tested to destruction through some of the most extreme tests any engine can face.
"It has been flat out for over 500 miles now and is still as good as new. It is also amazingly economical," Hiscox added with a smile.
In another test of the capabilities of the new Evinrude G2 engines a 250HP outboard was fitted to a Solent Ribs 7.5m early in the season and was extensively used during the Falmouth Marathon race in July. The boat ran as a start and chase boat for the big offshore boats which carry up to 2000HP and was more than a match for them on the start line.
Running at speeds of over 67mph with up to 6 people on the boat in moderate seas the G2 250HP used almost half the fuel of a 225HP standard outboard powered an 8m Ballistic rib.
"These G2's are amazing" said Chief Operating Officer of the race organisers, Eugene Bari. "We are going to switch all our support boats to run on G2's as soon as possible. The savings on maintenance and fuel make sense and the reliability they have showed this year is second to none."
The service interval on the Evinrude G2's is every five years or 500 hours making it one of the most economical and reliable outboard designs on the market today which means more time on the water.
Powertech Marine are authorised agents for the entire Evinrude range and would be delighted to help with any enquiries.